The Honda PC800 is one very unique sport-touring bike. The Honda Pacific Coast built from 1989-1998 has features similar to much more expensive motorcycles and provides cosmetic designs that turns heads.The PC 800 is known as one of Honda's Best Kept Secrets for a lot of good reasons.

The Honda PC800 is a very reliable motorcycle that requires very little maintenance when compared to other motorcycles. The Honda V-Twin is a water cooled 800cc engine that has been seen to last well over 100,000 miles and more in some documented cases.The PC800 also sports a shaft drive that has so many advantages over other bikes with the conventional chain with worry some adjustments and messy lubings on long trips.

The trunk is a story in itself, unlike bikes that utilize storage using saddlebags the PC800 incorporates a built in spacious trunk under the rear trunk lid. This allows the rider easy access to transporting items and clothing and even groceries .

As for power, the PC800 has ample torque even in the most demanding situation such as riding on steep and winding roads such as mountanious terrain. And as far as comfort and riders seating position, the PC offers a very comfortable plush seat and handlebar position even for taller riders.

The Pacific Coast PC 800 still has a very big following by motorcyclists-enthusiasts worldwide.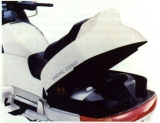 Color Rite-Good Source For Bike Paint

Givi Hard Cases
They offer big discounts on OEM Honda Parts
ask for Tim