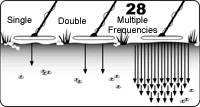 Minelab Explorer XS Frequency Detector
Explorer XS Metal Detector
This Paticular Unit is one of Two Units I own. I bought one for my Daughter to use. My Daughter just got married and used it very little so the unit is Excellent Condition. The unit has the new upgraded Composite (new) thicker housing-arm rest-stainless screws installed by MineLab In Nevada as well as the thicker grip. Also I bought a new Faceplate If One were ever scratched when transporting.
The Unit Comes With The Following:
Andy Sabisch's Mastering The Explorer (Book)
Extra MineLab Explorer XS Faceplate (New)
MineLab Enviormental Head Cover
Coil Cover
Rechargeable Nicad Battery Pack
Wall Charger
Automotive Charger (Auto)
Normal Battery Pack
Koss Headphones (Lifetime Warranty)
MineLab Headphones
This unit is an excellent deep seeking unit for the beach-coin shooting that has a LCD Display and Night Light to hunt with after dark Explorer XS
MineLab Explorer XS-Frequency-Specs
By increasing the number and the range of frequencies being transmitted (the Explorer operates between the frequencies 1.5kHz to 100kHz), there has been a marked improvement in both the depth and accuracy of discrimination. This means that the Explorer can now detect those very deep targets which have been overlooked until now. All those productive areas you have detected previously, done well and found all that was there in shallow depths, can now be re-detected to find the deeper coins which were missed previously. An added advantage of increasing the number of frequencies being transmitted is the increased accuracy of target identification. The more frequencies sampling the target, the more information returned for processing and the more precisely the detector is able to accurately identify the target. For the technically minded, Full Band Spectrum ( F.B.S.) has meant that the resolution or the divisions of measurement, the Explorer is able to make of a target signal has gone from approximately 8000 out to a massive 65000, a huge increase of information.
Depth and Sensitivity
Use it straight out of the box, the Minelab Explorer XS transmits 28 simultaneous Operating Frequencies, from SUPER DEEP 1.5kHz, all the way up to ULTRA SENSITIVE 100kHz. No need for you to do complicated programming. Switch on and go with the Explorer Factory Presets OR adjust individual functions with the push of a button. As you progress, the ADVANCED MODE allows you to adjust your Explorer for any situation.
This is the World's Most Advanced Detector!
The benchmark for Coin and Treasure Hunting detectors is about to change with the introduction of the new Minelab Explorer.
After years of intensive research and development Minelab is proud to announce the release of two totally new and innovative detectors, which have been especially designed for the coin and treasure hunting market. Following Minelab's history in technological development, the Explorer introduces a new concept to the world of metal detecting. Within a short time, the Minelab Explorer will be the detector other treasure detectors are compared with. Operating on a totally new system call Full Band Spectrum (FBS), this new technology transmits up to 28 frequencies simultaneously, ranging from 1.5 kHz to 100 kHz, improving both depth and accuracy of discrimination. Welcome to the new world of Smartfind.
The Explorer takes the old principals of how discrimination works and replaces it with the remarkable new technology called Smartfind. For the first time ever, here is a detector with 2-D Identification, which means that targets are now identified by not only conductivity but as well its ferrous content.
This unit comes with everything included in the original package. The unit is near mint, and was sent to MineLab to be tested-updated beforehand. I have used it only to check it out twice. The only way you can tell it has ever been used is the expected and very minor minor scuffs on the protective coil cover (Used T o Protect Coil)
Superior depth
Large, easy to read display screens
Targets can be identified three ways;

2-D graph (Smartfind)
Digital Meter
Tone ID

Target depth indicator
Signal 'blanking' on discriminated targets
Overload signal on large targets
Option of Automatic preset factory controls or manual operation of controls
Ergonomically designed for comfort
Simple Push button menu control
10" submersible searchcoil
Easy to use Quickstart program
Concealed coil cable (no more winding cables around shaft)
Easy access, drop-in battery case
Uses Alkaline batteries
Plus many more features!
TERMS OF SALE! PLEASE READ BEFORE BIDDING!
PAYMENT
Payment in full due within 10 days of end of auction.
Payment to be made by Money Order or with a Credit Card via PayPal.
Payment to be made in US funds only.
NOTIFICATION
Winning bidder will be notified be seller via E-mail within 24 hours of end of auction.
Please respond within 72 hours.
Bad FeedBack Left For Non Paying Bidders-If You Do Not Plan To Buy-Do Not Bid Please.